Southlands' Youth is supported by our congregation, a team of dedicated volunteers, and the Children's and Youth Ministry Coordinator under the supervision of our pastors, Major Wendy Mouland and Auxiliary Captain Charles Okongo.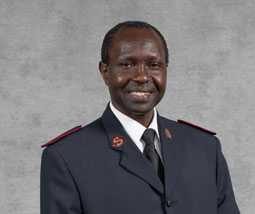 Major Wendy Auxiliary-Captain Charles
Youth Ministry Coordinator
Hello, my name is Jenny. I have been hanging out with Southlands Youth for a few years now. first as a volunteer and now as the Coordinator. Up until February 2017 I was pursuing a career in nursing, but God has slowly been revealing to me that He has different plans for my life. I can't say I know 100% what they are yet, but I know He will let me know in His perfect timing, and I know this is where

I'm meant to be right now. I'm really excited to have the privilege of helping the youth at Southlands and in the community continue to know, love, and serve God, and build on the foundation laid by previous leaders.
We have a number of dedicated volunteers who support the youth by helping to lead events, driving, teaching, hosting us in their homes, and baking for our snacks! All of our volunteers must go through the following screening to work with our youth:
-Child Abuse Registry Check
-Application to Work with Children and Youth
-Salvation Army Code of Conduct and Abuse Prevention Policy
-Armatus Abuse Prevention Training
-Drivers
must additionally have a clean Driver's Abstract
and be at least 18 years old

Volunteers Peter and
Jian playing a game
with some of the youth